This past Saturday, you might have been cooking a late breakfast, planning a fun weekend activity or taking some quiet time with your family. But with 10 days to go until the most important election of our lifetimes, more than 200 AFSCME members were fired up and raring to go during a Pennsylvania volunteer kickoff Zoom call, one of many being held around the country as the Big Green Machine kicks into high gear.
Monica Robinson, secretary-treasurer of AFSCME Local 810 (District Council 47), laid out the stakes of the race for AFSCME members in a year where a pandemic has killed more than 220,000 Americans to date.
"We have risked our lives and we have all stepped up for our communities in big ways," she said. "We cannot afford to elect leaders who do not have our best interests at heart."
"Make no mistake about it: everything is on the line in this election," urged AFSCME President Lee Saunders, who headlined the call. "All the values we cherish, all the things we've fought for, everything that matters to our families and our communities – it's all on the ballot."
AFSCME volunteers were also joined by a special guest, Pennsylvania Lt. Gov. John Fetterman, who celebrated the sacrifices of AFSCME members during the pandemic.
"Public employees have made getting through this pandemic possible," he said, and reiterated that "the union way of life is sacred in Pennsylvania."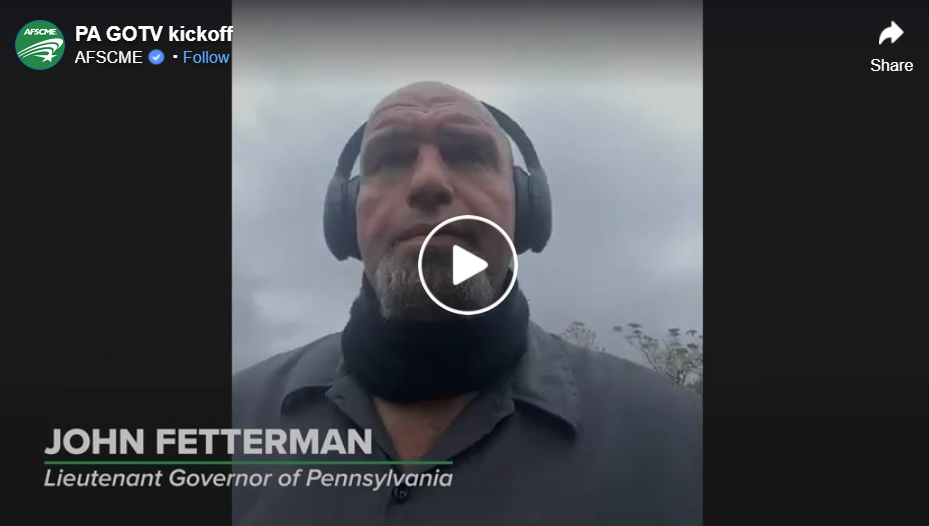 Members were ready to get the vote out for Joe Biden. Richard Sanders from AFSCME District Council 33 said, "I know Joe Biden has deep empathy for everything we've gone through this year and has a plan to lead us through this crisis."
Howard Thompson of AFSCME Council 13 added, "I am proud to be voting for Joe Biden because he is a union ally. He has never been afraid to talk about unions or union members."
"I'm excited about Joe Biden, because he knows that we are stronger when we work together," said Joanne McCauley from AFSCME District 1199c.
The Zoom call ended in a cacophony of enthusiasm for the phone banking that was to follow. The Zoom chat filled with calls of "FIRED UP!"
All across the country, AFSCME members are hitting the phones, making hundreds of thousands of calls in an effort to put Joe Biden and Kamala Harris in the White House. As Saunders said, "AFSCME family, this is our moment to show what the Mean Green Machine is made of."
There are more volunteer kickoff events coming soon, including for big campaigns in Arizona and Nevada. You can join the effort to volunteer by checking out ways to get involved below or at AFSCME.org/vfo.