TENTATIVE AGREEMENT RATIFIED!
All four U of M AFSCME locals voted to accept the Tentative Agreement for our July 2021-June 2022 Contract. The agreement will be voted on by the Board of Regents at their meeting on February 10 & 11. Raises and retro pay will be entered into the payroll system following that. OHR does not yet have a definitive date for when we will see the increases on our paychecks. We hope to have that soon, and will share it as soon as we know more. 
TENTATIVE AGREEMENT REACHED ON 2021 CONTRACT!
On December 16, 2021 the AFSCME at U of MN negotiating team representing all four locals (3260, 3800, 3801, and 3937) reached a tentative one year contract agreement with the University. 
While it isn't perfect, we are recommending that membership accept this contract agreement.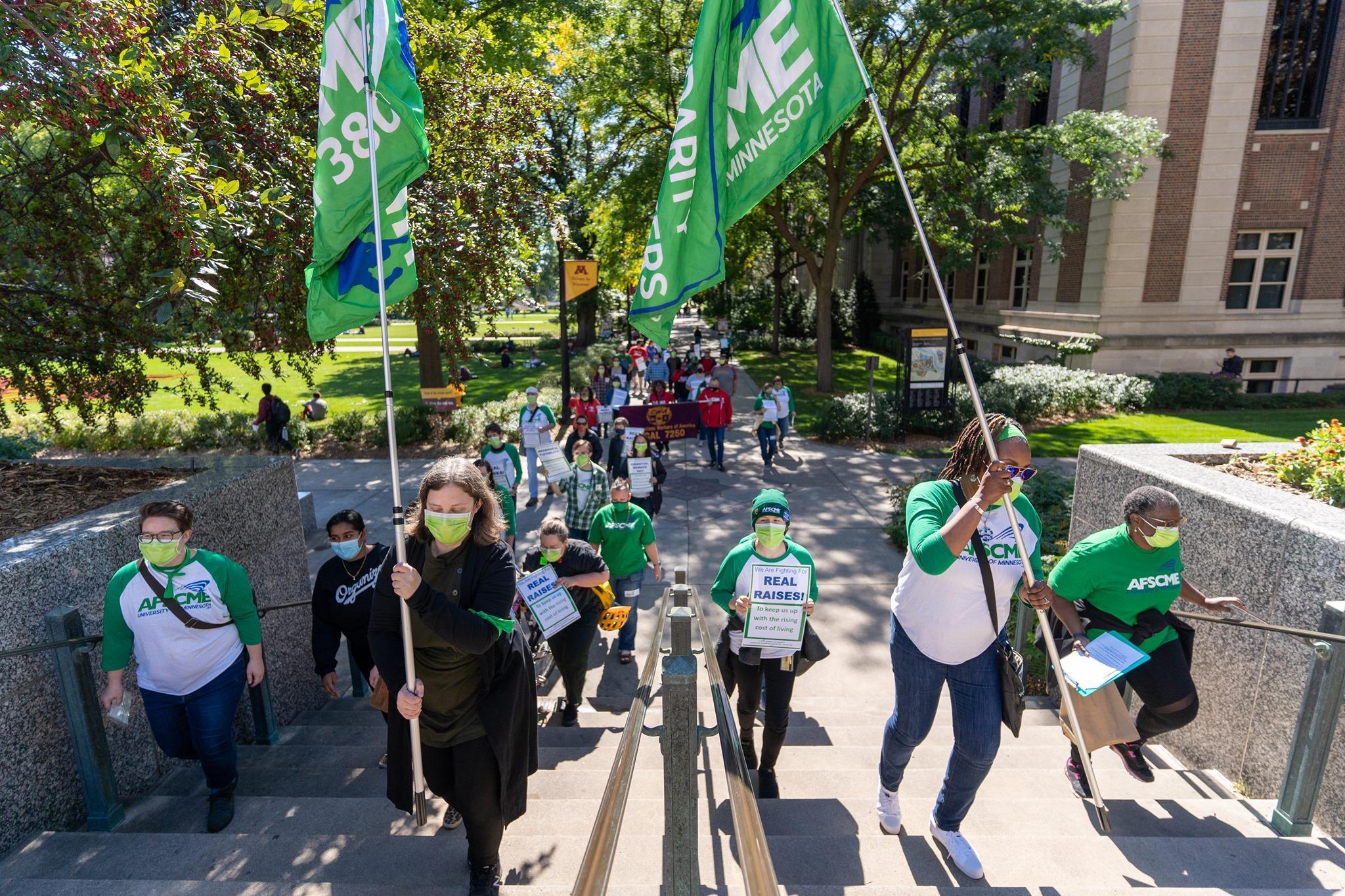 We started negotiations in May of 2021 with four top priorities of wages, remote work with an appeals process for denied requests, advancements on racial and social justice, and recognition for our essential workers. 
We are proud to say that by sticking together and being organized, we made gains on each of these four priorities.
Wages: 1.5% across the board increase with retro pay back to June 21, 2021. This 1.5% plus steps puts most of our workers at 3.5% for 2021 - ahead of other non-bargaining-unit workers. 
Remote work: We won contract language including an appeals process for remote work requests that were denied. 
Racial & Social Justice: While the University has not committed to make Juneteenth an official holiday in 2022, which we will continue to push for,  they are giving employees 2 additional personal days to be taken between a signed agreement and June 30, 2022. 
In addition, we have created permanent committees to address:  1. systemic racism and inequities in hiring; 2. rights of trans and gender non-conforming workers; and 3. workplace bullying. 
Recognition of Essential Workers: This fight was particularly difficult and frustrating but after holding out to the very end and demanding they recognize our siblings on the front lines of healthcare at the U of MN, we were able to get a one time $500 bonus (to be paid out in two payments) for our LPNs and CMAs who have put their lives on the line to care for students, faculty & staff during this pandemic.
In addition to these key priorities, we won 5 days of bereavement leave as a stand-alone benefit; an increase in the uniform allowance for health care workers; market adjustments for dental assistants, safety officers, and dispatchers; permanent increases in shift differential and weekend pay for Vet Med Center workers; and shifting a number of MOUs in the back of the contract into permanent contract language. 
To view the full tentative agreement, click here.
This contract is a start. However, our work is not done. This contract does not represent the full scope of what our workers deserve, and the wage increase in particular fails to recognize rising inflation and the reality of being overworked and undervalued. Still, we fought for, and won enough to take this agreement. We made a decision to accept a one year agreement in large part so that we can negotiate next year for the wage increases we need and deserve. We are ready to go back to the table in early 2022 to start negotiations for the next contract. 
The only way we can win the wage increase we all deserve is by organizing and standing together. Management is well aware of our strength and it's only when we demonstrate that we are activated and united that we push them to bring more money to the table. With the leadership of the Member Action Team we can and will win bigger next time. To get involved, reach out to the MAT member in your area or email [email protected]. 
Please join us to learn more about the details of this tentative contract agreement at one of the following virtual info sessions. Meeting ID: 969 8824 3521     Passcode: y4Har2
Tuesday, December 21: 11:00 - 12:00 or 12:30 - 1:30
Tuesday, January 4: 12:00 - 1:00 or 5:30 - 6:30
Ballots will be sent out by mail to all members and must be returned to the AFSCME Council 5 office by January 7, 2022. Constitutionally, only members can vote on the agreement. If you are not a member, you can become one right now, be eligible to vote on this agreement, and make our workplace stronger.
We are proud to say we stood strong together and forced the U to make changes that would otherwise have gone unrealized. Thank you to all the members who took action by attending a rally, disrupting the Board of Regents meeting, organized to get the word out to co-workers, and advocated for a better contract. We could not have done this without that solidarity. 
In solidarity,
Your UMN AFSCME Bargaining Committee 
Cherrene Horazuk, co-chair, AFSCME 3800
Geraldine Hughes, co-chair, AFSCME 3801
Maggie Kilgo, co-chair, AFSCME 3937
Deborah Pavlica, co-chair, AFSCME 3260
Rosetta Chears, AFSCME 3800
Kim Dery, AFSCME 3260
Sarah Eckel, AFSCME 3800
Dom Fritzke-Brenny, AFSCME 3800
Amanda Greenhart, AFSCME 3800 
Rob Hietala, AFSCME 3801
William Hill, AFSCME 3937
Mahva Jones, AFSCME 3800
Chi Phung, AFSCME 3260
Andrea Sande, AFSCME 3801
Sarah Vast, AFSCME 3800
Ryan Hanson, AFSCME Council 5
Kate Black, AFSCME Council 5
UMN AFSCME Bargaining Update #7 - November 30th, 2021
Your AFSCME Bargaining Committee was, once again, at the table with the University on November 30. This was the first time we met with the new lawyer hired by the University after their lead negotiator went on medical leave. 
The attorney is a known union-buster who has a history of being hired for boss fights in the Twin Cities. He is exceedingly competent, but also bitingly condescending and a bit frustrating to work with. Fortunately, his competence means that on November 30 we did get final written TAs on forming the three new Labor Management Committees as standing, permanent committees in the body of the contract. These new LMCs will focus on addressing Workplace Bullying, Transgender and Gender Non-conforming Rights in the Workplace, and Systemic Racism in Hiring Practices. These committees are real victories in our fight to make the University a safer, healthier, and more sustainable place for ALL of us. 
The University put forward a new paragraph in their Bereavement Leave proposal (which still mostly matches the Civil Service rules) that demonstrates the math for the pro rata application of the policy, something that no other contract at the U has and reeks of sexism and classism. Ironically, it is our members who do these calculations and apply this policy. 
We presented a package deal to the University in which we offered to drop several minor proposals that are still on the table and agree to a one-year contract if they met our remaining demands. Despite them not having any proposals on the table, the U's team feigned frustration that we were only demanding things that we need for our members. 
Our bargaining team was in negotiations briefly yesterday, December 9, and will be bargaining again on December 16. As always, we are hopeful to reach a final agreement, but will not do so merely to be done. We have continued to convey to the U that our new contract must address the priority needs of our members.
UMN AFSCME Bargaining Update #6 - November 23rd, 2021
AFSCME Proposals/Status Consolidated 
As you know, your AFSCME bargaining committee was scheduled to negotiate with the University on November 9. Unfortunately, we got word the day before that the U's lead negotiator had to step out of the role for the remainder of bargaining. We rescheduled with the new negotiator for November 18, with a session with the co-chairs on the 17th. At that time we learned that the U has hired an outside lawyer to lead bargaining and is restructuring their team. They cancelled the session on November 18 in order to have more time to prepare. On the 17th, we provided a document with the complete status of proposals, tentative agreements, and dropped items. Our full committees met the morning of November 22, where AFSCME gave a complete pass with our proposals. Both documents are available on the AFSCME 3800 webpage. We will meet with the employer's team on November 30, and expect a full pass from the U's team to start the day. 
We have victories on some of our main demands and all tentative agreements continue to stand. We see the change in the U's team as an opportunity to have fresh eyes from management on our priorities and remaining proposals. We are cautiously optimistic that there is still room to make progress in this round of bargaining. 
As an important reminder, you should have or will get your Step/Annual pay increase on your anniversary date. Those continue during bargaining for anyone with room to move up in the grids. Other workers at the U were given a 1.5% pay increase this year and our step increase are about 2%, so whatever we win in bargaining will still put us ahead of others. Unlike the clerical contract, the technical contract ties step increases to reaching agreement on a new contract and have all techs getting step increases on the same day in October. The tech local reached an agreement with the U to remove the so-called successor clause and for techs who are hired in the future to receive their steps on their anniversary date rather than waiting for up to a year and a half to receive their first step. 
The committee continues to fight for our four main demands: 
Real raises that keep up with rising costs - we continue to push for a flat-rate increase in order to address wage inequities in our positions. 

Essential Pay for Essential Work - frontline essential workers are fired up and have consistently put pressure on the U to recognize their work. 

Remote and Flex Work with an Appeals Process - we think we are close to agreement here and really see an opportunity for the U's new team or the mediator to see that this just makes sense. 

Racial and Social Justice at the U - we have made real progress and have real commitments from the U to form standing Labor Management Committees where to work on issues around transgender and gender non-conforming rights in the workplace, around structural racism in hiring practices, and around bullying in the workplace.
We know that you are all ready for bargaining to come to an end and we feel the same way, but we are not giving in just because bargaining has taken this long. We call on you to talk to your co-workers (union or not) and bosses about your frustrations with the process. The more we are vocal and visible in the workplace, the stronger we are at the bargaining table! We are nearing the end - let's finish strong!
UMN AFSCME Bargaining Update #5 - October 22nd, 2021
VIDEO: AFSCME Bargaining Report (click here for video transcript)
10.12.21 10am AFSCME Proposal
10.12.21 AFSCME Counterproposal on Dental Assistant Market Adjustment
10.12.21 AFSCME Response on MOU Proposals
10.12.21 University Proposal, Revised and emailed 10.18.21
10.20.21 10am AFSCME Proposal
10.20.21 11am University Proposal
10.20.21 11am AFSCME Proposal
10.29.21 4pm University Proposal
Our AFSCME bargaining committee was in negotiations on October 12 and 20, where we continued to fight for our top priorities:
Meaningful raises that keep up with the cost of living
Recognition for essential workers
Remote work and Flexible Scheduling based on the work we do
We are working to make the U a more equitable and just place for ALL workers
These are the priorities we've been fighting for at the table and that you - AFSCME members - set. You've been strong in fighting for these priorities publicly - at the Rally at Coffman, at the Board of Regents Meeting, and, just this week, at the Boynton Picket. 
We believed that we made progress on a number of proposals on October 12, so we were hopeful we would reach a tentative agreement on the 20th, but we have just not seen sufficient movement from the U on our core issues. At the end of the day of bargaining, we let the University know that we will be requesting mediation and then formally submitted that request to the Bureau of Mediation Services. 
There have been some wins addressing workplace inequility issues and we have tentative agreements to create three new ongoing Labor-Management Committees: one on Transgender and Gender Non-conforming Rights, one to address bullying and creating a Respectful Workplace, and one on Addressing Systemic Racism in Hiring Practices. These committees, accompanied by ongoing workplace organizing, have the potential to make progress on addressing inequality at the U.
Unfortunately, we've seen little movement on our remaining core issues. The U has not moved on wages even once and have instead stuck to a minimal increase of 1.5% for only one year. Rising inflation for essential items like food, gas, heating and other utilities will more than eat up a 1.5% increase for folks who make on average $45,000 a year. We need to move forward, not backwards.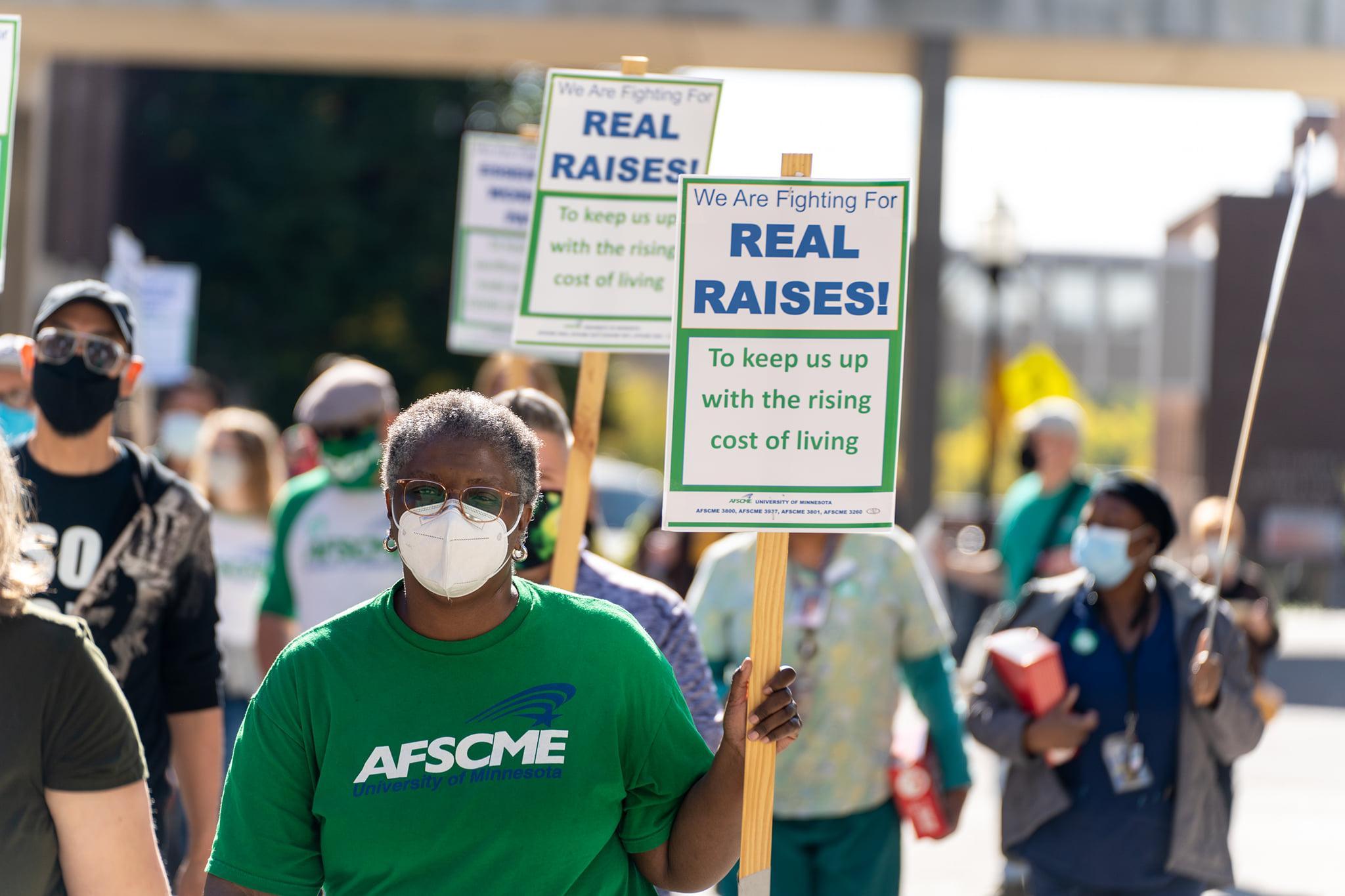 The University has also tried to pressure us into accepting an inadequate deal by threatening to withhold retroactive pay increases because bargaining is "taking so long." Yet, it is the University who cancelled an entire day of bargaining and frequently took hours on bargaining days merely to return with the same answers, "No!" or "It's Managerial Rights to …" In fact, on October 20, they kept us waiting for FOUR hours for a response to two proposals that we had made minor edits to; their response was "No" on one proposal and deleting three words and adding eight words to the other proposal. We know that the University has budgeted for salary increases from the first day of the fiscal year. It is unacceptable that they would threaten to withdraw retro pay on increases that are already minimal when they are dragging out each session.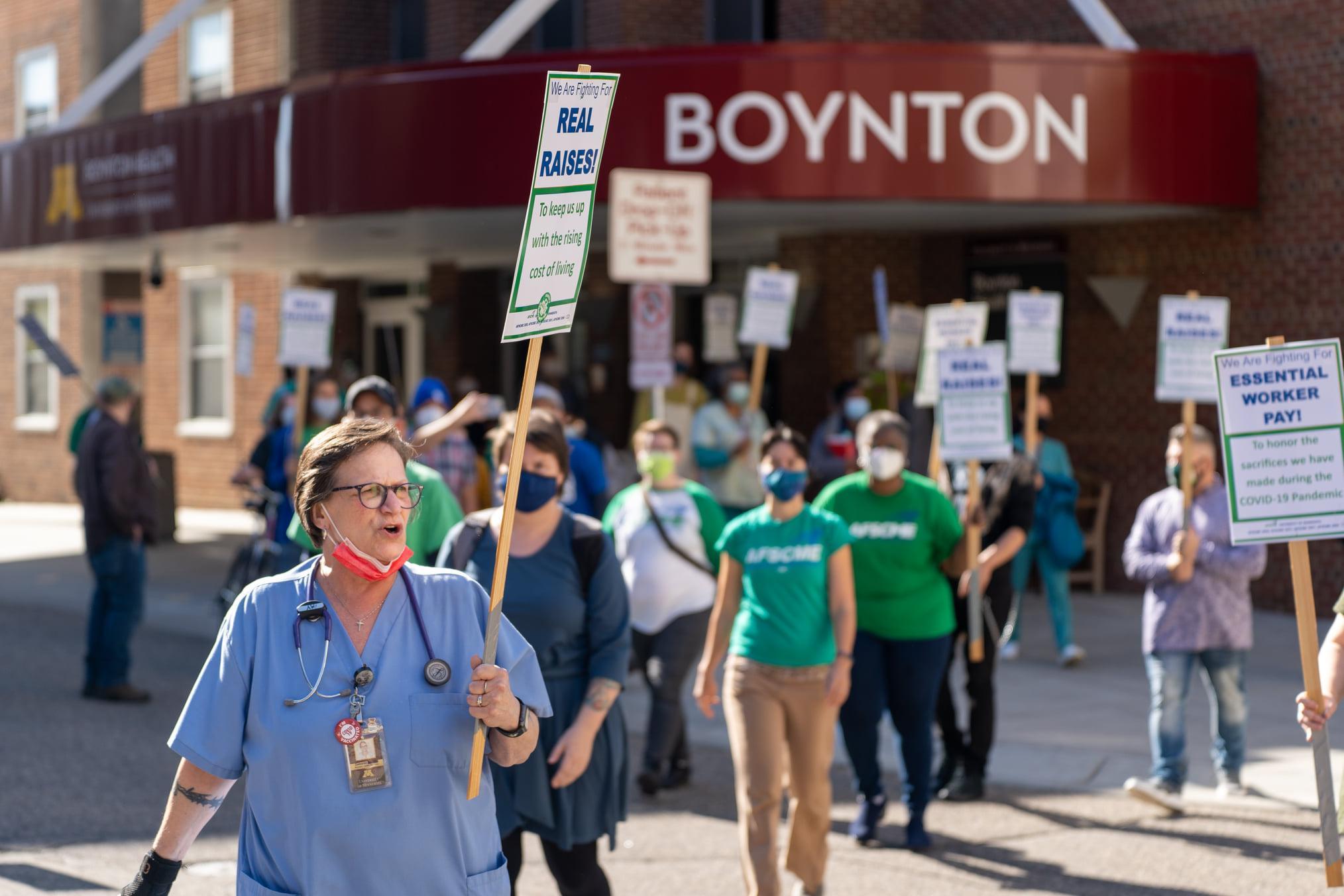 The University continues to refuse to provide any type of financial acknowledgement or recognition to the healthcare workers who have risked their lives since day one of the pandemic, testing and treating students and community members who have COVID. We modified our proposal for essential worker pay to provide lump sum bonuses rather than ongoing pay, but the U still refuses to discuss. They also refuse to discuss market adjustments for LPNs and CMAs, who have been working tirelessly, short-staffed, in order to keep the rest of the University safe. They deserve to be paid fairly for their sacrifice. 
The University's lack of movement on key issues along with their decision to drag out bargaining has left us with no choice but to involve a mediator. Mediation has typically been the last step in our bargaining process. We did not need a mediator to reach an agreement for our last contract and we had been hopeful that it would not be necessary this time. However, we believe a mediator will be helpful in moving our process forward more quickly and systematically. 
On October 25 and 26, we will be hosting two virtual town halls to go more in-depth on the status of the proposals still on the table, and how members can support the bargaining process. We hope you will attend -- bring coworkers, and bring any questions you have.
When we fight, we win!
VIDEO: AFSCME Bargaining Report
Our AFSCME bargaining committee was in negotiations on September 13, where we continued to fight for our top priorities:
Meaningful raises that keep up with the cost of living:
We know that we have all adapted, learned, and showed deep accountability throughout the pandemic. Many of us never left or are now returning to in-person work. Now, given the high rate of inflation, we deserve fair raises that keep us moving forward, not falling behind! We modified our wage proposal to be more equitable and ensure that our lowest paid members are not left behind. For year one, we are proposing a 2.5% OR 75 cent per hour increase, whichever is greater for an individual. For year two, we are proposing a 3.5% or $1 an hour increase, whichever is greater for the individual.
Recognition for essential workers:
Many of us, especially healthcare workers, have been on site for the entire pandemic, risking our health and safety to ensure the University runs. The U paid us an extra $16 a day for a total of 3 months. They call us essential, but refuse to fight for our inclusion in the legislature's essential worker pay package. We are demanding that the U recognize and honor our work. 
Remote work and Flexible Scheduling based on the work we do:

We have proven in the months since March 2020 that MUCH of our work can be done just as well, or better, at home than in the office. But we keep hearing from workers that their requests to continue remote work have been denied without cause or being told to "return or quit". This is unacceptable! We need an equitable process (with appeal!) that ensures fair consideration for Remote Work and Flexible Schedules based on the work!
We are working to make the U a more equitable and just place for ALL workers:
By fighting to ensure that all University workers, regardless of identity or need, have equitable access to health care and wellbeing resources. We demand that the U recruit, hire, and retain a diverse workforce. We want to ensure that all of us have a safe & healthy place to work, free from discrimination and bullying. 
On the 13th, We proposed the establishment of a labor management committee for ongoing discussion and action regarding the rights of our gender nonconforming members. 
We shared incredibly powerful live testimony and video presentations by dental assistants on the pay disparities they face. You can find links to the videos on the AFSCME 3800 webpage. The University replied that they will be bringing a market adjustment proposal for dental assistants & dental assistant specialists to the next round of bargaining. 
We provided a full pass on our proposals, and reluctantly dropped a number of lower priority items in order to focus on higher priority issues for this round of bargaining. We told the U in no uncertain terms that the items we dropped this year will be back on the table in future rounds of bargaining. The U, on the other hand, made minimal movement and did not move at all on any of our key proposals. They finally gave us a proposal for moving the language on a number of Memorandum of Understanding sections from the back of the contracts, into the body of the contract so they will be easier to find - but this is more housekeeping than anything else.
The U's lead negotiator then said that she really hopes we will be able to wrap up bargaining on September 23rd, which is our next date at the table. It was a clear message that they want us to just drop our priority issues in order to reach an agreement. We are committed to continuing to bargain until we make significant headway on our key issues. We also know that our bargaining committee is only as strong as the workers standing behind us. We return to bargaining on the 23 and we need your support and action.  We only make big moves and win big when we stand together to show the U Admin that we mean it when we make these demands!
Let's join together and show the U how strong we are! Join us at our Rally on the Twin Cities Campus at the East Bank Student Union's Front Lawn on Wednesday, September 22 from noon to 1:00. In Duluth, join us at the same time at the Kirby Bus Hub. Please wear your AFSCME green and a MASK. 
Our demands will only be met if the University Administration sees our strength and unity. We look forward to seeing you in person on the 22nd. 
UMN AFSCME Bargaining Update #3 - July 13th, 21st, 29th, 2021: 
VIDEO: AFSCME Bargaining Report
UMN Response to AFSCME Proposals (7.13.21)
AFSCME Proposals (7.21.21 - Morning)
AFSCME Proposals (7.21.21 - Afternoon)
Our University of Minnesota AFSCME negotiating committee met with the University on July 13, 21, and 29. The first two sessions focused on presenting our proposals and providing the rationale for them. We made clear to the University that making economic progress, real flexibility and remote work, recognition for frontline/essential workers, concrete advances on racial and social justice and a safe and healthy workplace are top priorities for our members. Our proposals reflect those priorities and we need to see movement from the University on these issues.
Thus far, the University has been unwilling to negotiate wage increases for the second year of our contract. Their most recent proposal, which we reject, is for a two year contract in which we would just accept "whatever is budgeted for other employee groups." We stand firm in our demand for a two year contract with raises in each year that will ensure people don't fall behind economically. Inflation is at 6.5% currently, and increased costs for basic goods like food and transportation has an outsized impact on lower wage workers. We told the University in no uncertain terms that we need to move forward, not fall behind.
Remote work and Flexible Schedules, with an appeals process for denials, remain a top priority for many workers! We recognize that many of us have continued to work on-site throughout the pandemic, but as others return to campuses on August 2nd, these issues are on the forefront of our minds. We continue to hold the line on needing flexible work language in the contract, including an appeals process for denied requests. For many of us, the so-called "Work. With Flexibility." depends more on who your supervisor is than on your work duties or who you interact with. We are seeing many supervisors requiring rigid schedules and in-person work regardless of job duties and an astonishing lack of empathy or problem-solving mindsets when workers raise their concerns.
As the case numbers of Covid-19 (especially Delta variant) continue to rise again, we are calling on the University to ensure a safe and healthy work environment for all staff and faculty and a safe learning environment for students. We modified our proposal for a vaccine mandate to mirror what several states, cities, and the federal government are instituting - a requirement for people to be either vaccinated or regularly tested for COVID if they are going to study or work in person.
We heard repeatedly that the U's negotiator is not authorized to make certain commitments, so we pressed to have key decision makers in the room, particularly related to health insurance and benefits proposals. 
During our July 21 round of negotiations we met with Human Resources Vice President Ken Horstman and Interim Senior Director for Total Compensation Mary Rohman Kuhl to discuss insurance coverage and benefits. We raised concerns regarding changes being made to the pharmaceutical formulary without notice and HR staff acting as if they are doing a personal favor when resolving the issue. Hearing our stories about how members are negatively impacted by sudden changes in the formulary preventing them from getting their prescriptions seemed to make an actual impact. Hearing how the process to appeal these changes is not transparent and can cause additional harm and health care concerns seemed to get through to both Ken Horstman and Mary Rohman Kuhl. On July 29, we presented a new proposal to ensure a transparent appeals process and for the formulary to have greater stability, particularly for mental health and other medications where immediate changes are very dangerous. 
Regarding our other insurance proposals, we heard several promises for the future, but want more details and commitment before we feel we've made progress for our coverage. For example, the University stated that they are looking into vision coverage for employees. They're supposedly seeking to do this in less than 3 years.  We also requested that they look into a greater insurance contribution for hearing aids and cochlear implants, along with assistive technology for the hearing impaired.
We also gave a counter proposal for stand-alone bereavement leave asking the University to recognize emotional relationships in addition to legal familial ones, travel time for those who must travel internationally, and additional days of bereavement leave. We have been pushing for standalone bereavement leave during many years of bargaining, and believe we will come to a tentative agreement on this issue.
We know that some proposals will take multiple rounds of negotiations to secure. We won paid parental leave for ALL University employees after proposing it for more than six years. We start bargaining each contract with a list of proposals that reflect the needs and wants of our members with the understanding that some proposals will need to be dropped in order to make headway on others. On July 29, we dropped a number of our proposals in order to signal our top priorities to the University. We let the University know in very strong terms that many of these issues are highly important and will be brought forward in future negotiations. 
We are maintaining our proposals to address workload, which continue to be high priority for our members. If the University has trouble retaining talent in the coming year more work will fall on fewer shoulders. There is a point where you actually can't do more with less.
We are also maintaining our proposals to concretely address systemic racism and advance social justice at the U by creating greater access to University jobs, clear pathways for promotion, greater job security, and a salary equity review process to address wage disparities based on race, gender, age and disability.
In addition to the proposals for all AFSCME contracts, Unit 4 Healthcare workers have a number of specific proposals for their contract. The university is trying to haggle with us but we know how much uniforms cost! We are at a counter of $250, to include mandated taxes. We have proposed an in-range adjustment to bring healthcare employees to the appropriate step to reflect their years of service and experience and for an increase in the annual career bonus. We are also asking for dental assistant wages to be reviewed and increased relative to current market and specialty status.
We are demanding that departments be prevented from including students' and anonymous comments in job performance reviews and that reviews be tied to job duties. 
We are also asking for clarification regarding the current and future status of the School of Dentistry (SOD) Break Room. This space is meant to be permanent, but management has told us that the area is temporarily leased, which the Union will not agree to.
Finally, we proposed parity for all our locals in University paid time for union presidents. Three of our locals have 50% time to do the work of our union, but healthcare is at 5%. We are outraged with the University negotiator's response - suggesting all locals give up University paid time and that healthcare recruit more stewards. The leaders of all of our unions deserve respect and support for the work they do on behalf of our members.
A full copy of our proposals is available at afscme3800.org. 
Negotiations have been slow and often frustrating for the committee, but we continue to hold strong on the issues most important to our members. Our role is to be a voice for our members at the table - but the real power in negotiations is in the workplace. The University will only move on issues if they see them being discussed and pushed in departments, colleges, and campuses throughout the system. Time and again, we have seen the administration do what they previously refused to do after being pressured by staff, faculty, and students. To get the contract we want and deserve, we need to raise our voices collectively and demand action from the University administration. We are asking all of our coworkers to sign our Member Action Team's petition in support of our bargaining demands. By signing, you demonstrate to the University Administration that the bargaining committee is representing you - the members, that you believe in these demands, and that we are standing strongly together to create a better University for all of us. 
UMN AFSCME Bargaining Update #2 - June 14, 2021: 
VIDEO: AFSCME Bargaining Report
UMN Response to AFSCME Proposals
AFSCME Locals 3800, 3801, 3937 & 3260 at the University of Minnesota held our second bargaining session with the University administration on June 14, 2021. The morning was taken up with the University's response to all of our proposals. 
They claimed that broad subjects like benefits, disciplinary processes, and work location/schedule arrangements fall within so-called managerial rights - in short, it was a lot of "no, we're not going to talk about that." The U's bargaining team seems to be confused about the difference between employee consultative groups and contract negotiations, often suggesting we go through OHR or the Benefits Advisory Committee. We are not raising issues merely as a suggestion. These are proposals for bargaining.
However, things took a turn in the afternoon -- we reminded them that these are subjects we already have contract language on and that some are mandatory issues for bargaining. We made it clear that we will not accept refusal to bargain. 
The Member Action Team organized and recorded videos of AFSCME members to show  the management team how remote work and flex scheduling over the last year have been critical to our physical and mental wellbeing, family connections, and work/life balance. .Thank you to Susan Janoski, Tricia Silpala, Darcy Gabriel, and Rachel Katkar for sharing your powerful stories!
Suddenly, the University was willing and interested in discussing specifics of our proposals, including an appeals process for when supervisors deny an employee's request to work remotely or create a flex schedule. When pushed by the pandemic to take action, the University provided the tools and resources needed to enable many people to continue doing their work from home. We have proven it is possible and work at the U has never been more accessible. Now, we must stand together to continue the benefits of flexible work and to be rewarded and acknowledged for our successes!
When we return to the negotiating table with management on July 13, we hope they will come ready to bargain in good faith and prepared to make actual progress toward a contract. We are stronger together. To that end, we are building a strong organizing wing of our union: the Member Action Team! The MAT organized the videos we showed to management and they will continue to drive member involvement and actions throughout bargaining. If you are interested in getting more involved, email us to get in touch with a MAT member in your area.
The University's message in bargaining is that they will not give us anything we don't fight for. They think that we should be grateful to work here. We are vital to them and our solidarity is what drives home the win. Together we all rise.
UMN AFSCME Bargaining Update #1 - 

Opening Day of Bargaining - June 1, 2021:

UMN Management Opening Proposals 

VIDEO: AFSCME Bargaining Report

AFSCME Locals 3800, 3801, 3937 & 3260 at the University of Minnesota held our opening bargaining session with the University administration on June 1, 2021. After months of collaboration, and with much input from members on significant workplace issues and effective ways to address them, our Bargaining Committee brought 7 single-spaced pages of proposals to the opening day of negotiations with the University, laying out a comprehensive vision for a workplace that ensures health and safety for EVERYBODY at the University, demonstrates respect for workers, compensates us fairly, ensures the ability for remote work and flex scheduling, and proactively addresses systemic racism by expanding access to union jobs. 

After an hour of lecturing us on how grateful we should be just to have a job, the University management team brought their 4 bullet points to the table. They include maintaining the MOUs in the back of the contract and cleaning up typos. Their only proposals of substance are a proposal for a one year, rather than standard two year, contract, and a 1% across-the-board general salary adjustment. That is a far cry from the 5% annual increase we deserve and proposed. 

The University is attempting to spin the events of the past year -- the losses and hardships we have faced -- into a narrative that we should feel grateful to have jobs at all.  We remember that AFSCME had to fight for the U's emergency responses -- for safer working conditions, adequate PPE, and work-from-home wherever possible; pay continuance for workers who could not work remotely; and paid pandemic leave -- separate from sick or vacation accruals -- available to all employees. They are claiming that 1.5% and a one year contract is the absolute best that they can do. In their finance presentation, University Budget Director Julie Tonneson claimed that the University is basically emerging from the financial hole caused by the COVID-19 pandemic. They need to do better for frontline workers.

One of our highest priority proposals is for the University to require a COVID vaccine for all faculty, staff, and students to work and/or study on site. As an institution of academic inquiry, we MUST follow the science and not succumb to politics. Many of our members have continued to work on site throughout the pandemic - risking their own health and that of their loved ones - in order to keep the University running. Many other members have serious health conditions or have loved ones with serious health conditions where being vaccinated themselves is not enough. The University is obligated to ensure a safe and healthy working and learning environment for our entire University community. We have lost at least one AFSCME coworker and a Regent to COVID. We must do everything we can to ensure we don't lose anybody else. We are asking our members, as well as faculty, other staff, and students, to sign on to a petition urging a vaccine mandate. Go to the link at the bottom of the screen, or to AFSCME3800.org to sign on.

We also proposed a comprehensive plan for flexible work location and flexible hours that includes a clearly laid out process that has employees in the drivers' seat rather than leaving decisions in the hands of supervisors. The focus of our next day of bargaining on June 14 will be on the details of flexible work procedures.

When we stand together, we change what is possible, and we lift as we rise. Workers keep the University running, so the more rank-and-file support we have in the room, the more leverage we will have at the table. We win better contracts when we are mobilized! 

To that end, we are building a strong organizing wing of our union: the Member Action Team! The MAT was already instrumental in turning out members to the opening session of bargaining and they will continue to drive member involvement and actions throughout bargaining. If you are interested in getting more involved, email us to get in touch with a MAT member in your area.

The University's message in bargaining is that they don't care about us.They think that we should be grateful to work here. We are vital to them and our solidarity is what drives home the win. Together we all rise.

We are your UMN AFSCME bargaining committee and we are fighting for the contract and workplace we all deserve:

Co-chairs: Cherrene Horazuk, Maggie Kilgo, Deb Pavlica, Geraldine Hughes

Committee Members: Mary M Austin, Rosetta Chears, Will Clashe, Kim Dery, Sarah Eckel, Dom Fritzke-Brenny, Amanda Greenhart, Rob Hietala, William Hill, Mahva Jones, Nicole Masika, Chi Phung, Andrea Sande, Sarah Vast