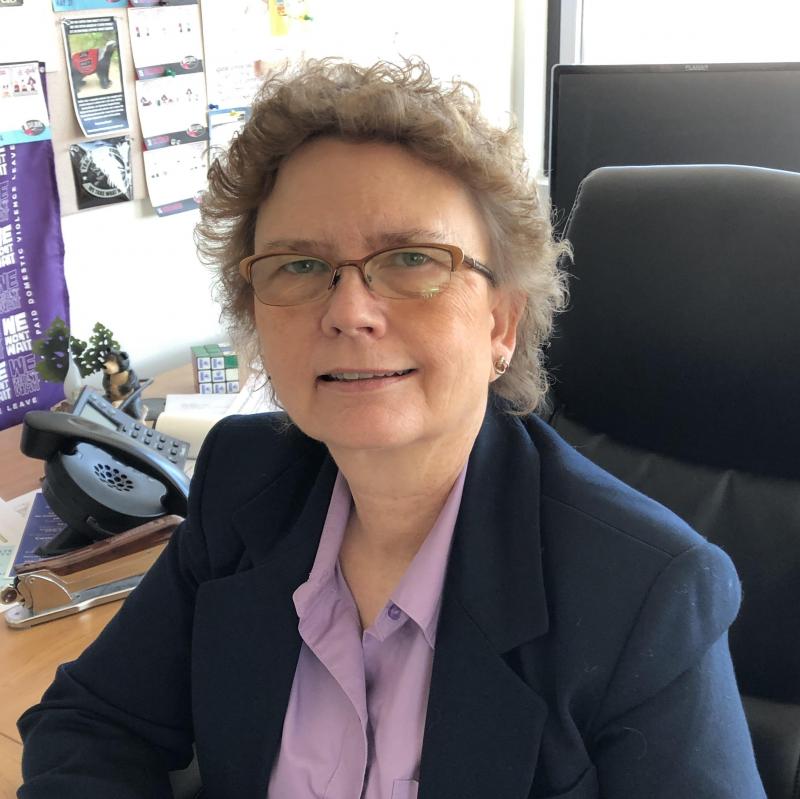 300 Hardman Ave South, South St. Paul MN, 55075
Julie has been fighting in the halls of power at the Capitol, negotiating contracts, and securing strong workplace standards on behalf of working families for over 35 years, first at Minnesota Farmer's Union and then Council 5, becoming Legislative Director in 1994 and Executive Director since December 2019.
Julie is the first woman to hold the position of Executive Director since the formation of Council 5.
Bleyhl has brought a strong labor voice while serving on the University of Minnesota Board of Regents and the Minnesota State University Board and has truly 'walked the walk' on picket lines, at the negotiating table alongside members and continues to hold Legislators and management accountable to our shared values and priorities. Over the decades, she has worked closely with all of our Council policy committees, including MinnState, Department of Natural Resources, Department of Transportation, Department of Corrections, Department of Human Services, as well as strong partnerships with our city, county and our non-profit locals through negotiations, county program aid/local government aid coalitions and more.
Julie was instrumental in passing the largest and most significant pension sustainability law in a generation, protecting and strengthening the defined-benefit pensions of over 500,000 public employees and retirees. As Chair of the Public Employee Pension Coalition (PEPC), a coalition of dozens of public employee labor unions and associations, Julie fought tirelessly for over three years to pass this legislation, always alongside our union's active and retiree members. She continues to lead the fight to protect our defined-benefit pensions and retirement security. Additionally, Julie remains an integral figure to protect the Public Employee Labor Relations Act (PELRA) from persistent attacks, closing important collective bargaining agreements, and securing and expanding collective bargaining rights for workers across our state.
Protecting public services and programs from privatization and outsourcing which harms the proper delivery of services that millions of Minnesotans depend on is one of Julie's passions. She successfully led the fight to ensure our state never again opens a private prison, was a key figure in fighting back against the outsourcing of sand and salt hauling and snow plow drivers in MnDOT, a leader in our Safe Staffing campaign to fully staff the workplaces of AFSCME members, among countless other priorities.
Julie declared, "Our union is diverse, strong, and well-positioned to fight against corporate greed and to fight for the rights of working people to collectively bargain over their wages, hours, working conditions and benefits. In order to do this effectively, we as a union must remain on the cutting edge of technology, organizing tactics and strategies and truly represent all members of our union in all the work we do. We can achieve great things as a union family, but we can only do it if we do it together, with a common goal and a clear vision. I am committed to leading our union that is driven by our rank-and-file members."
Whether it's asserting our union's voice with the Governor/Lieutenant Governor, Agency Commissioners, all levels of management and elected officials, securing strong contracts that treats public employees with the dignity and respect they have earned or updating and enhancing our union's operations, Julie has built a reputation of collaboration, 'people power', and always brings the voices, ideas, and concerns of our union members to the decision-making table.