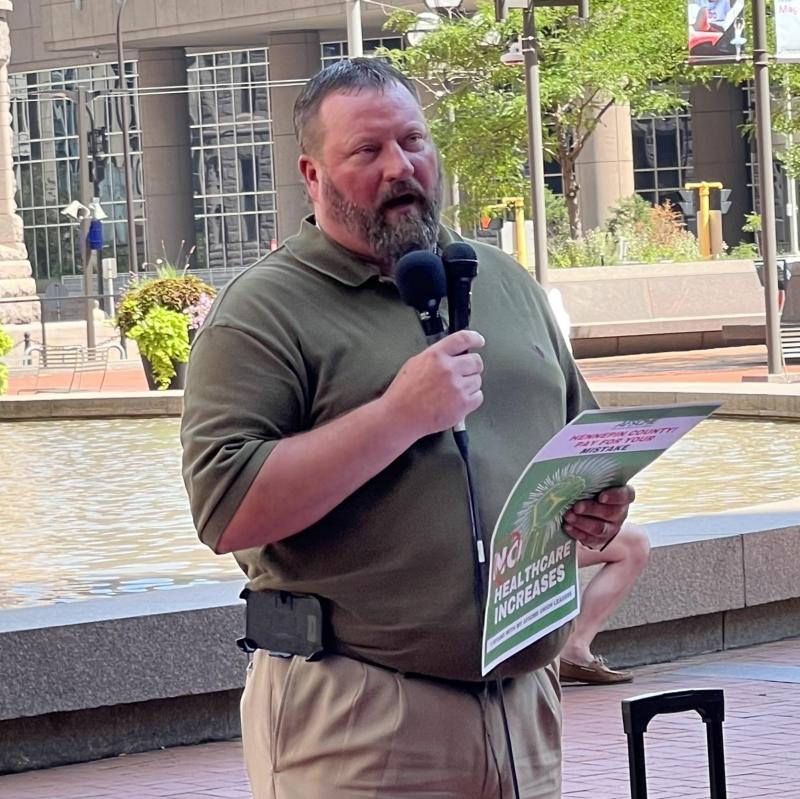 Interim Executive Director
300 Hardman Ave South, South St. Paul MN, 55075
Longtime AFSCME Council 5 union member and leader Bart Andersen was appointed by the AFSCME Council 5 Executive Board to serve as Interim Executive Director in August 2023.
"I love the labor movement, our members, and our staff, and am honored to have been chosen to help lead our union of 43,000 members. I, along with AFSCME Council 5 leadership, am committed to empowering staff and working collaboratively to ensure our One AFSCME team has the tools, resources, and support to properly represent our members and grow membership so we can achieve strong workplace victories that positively impact our members' lives," said Bart Andersen. "Our members are ready for a unified and powerful union that builds upon the progress we have made but also looks to create our new future as we prove to our members that the power of WE is more important than anything else. That together, we will prove the Union Difference and be the powerhouse union that is representative and inclusive of everyone from all backgrounds, zip codes, and lived experiences," he said. 
In 1996, Andersen started working as a Bridge Worker in the Minnesota Department of Transportation (MnDOT) and became a union member, leader, and President within AFSCME Local 2792 then helped merge Locals 1011 and 2792 into what is now Local 221 (Metro MnDOT). As a longtime union member, Bart fundamentally understands the power of rank-and-file members. For those who see the need for change and in order to carry out those changes, members need to feel empowered and get active in their workplaces, their local union, and Council 5 to improve our lives and that of our loved ones and neighbors.
Bart's unique experience as a union member, steward, and president, Council 5 Executive Board member, State Employee Policy Committee (SEPC) President representing all AFSCME Council 5 state employees, AFSCME Council 5 Field Representative representing our members and negotiating contracts in state and local government, private/non-profit sector, and later becoming Field Services Director, gives him a unique perspective of our union at all levels that will help drive our vision and organizing plans that are built for our rapidly-evolving workplace landscape and work together to overcome the challenges we all see in our workplaces by doing this work as a One AFSCME team where everyone is heard and valued.
Andersen said, "As Interim Executive Director, my goal is to ensure our members and staff are empowered to continue our critical work of representing our 43,000 members and by extension our loved ones and neighbors, as we set the standard for other employers across our state. I thank our staff for their hard work every single day that keeps our union operations running effectively and I appreciate the continued leadership of our members from the Council to the local union level. We all matter and we all have work to do to build our union and position us for the future."
He continued, "I know that we're ready for this work, AFSCME family. Thank you for everything you do for our union and for the excellent public services you deliver every single day."