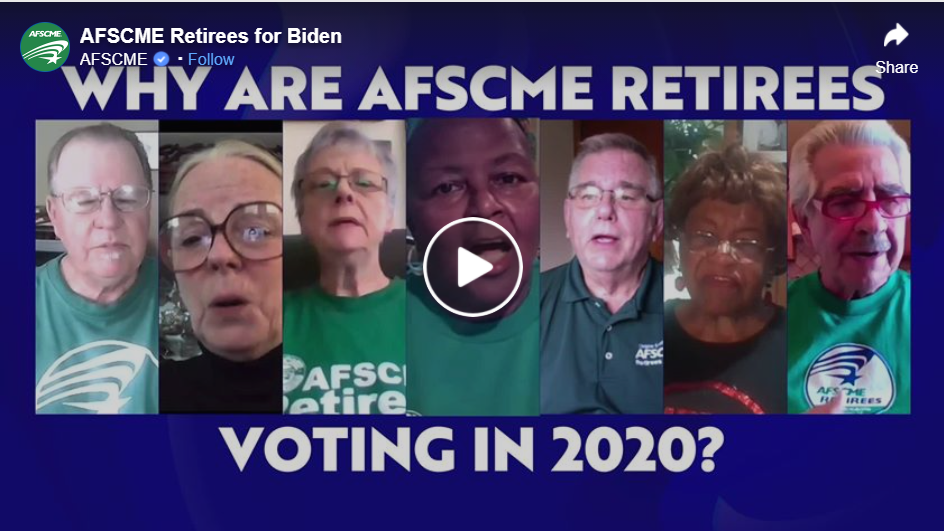 It's easy to say that the 2020 election is the most important of our lifetimes, but hearing this firsthand from AFSCME Retirees, many of whom have dedicated their lives to public service and making America a better place to live, shows the urgency to us all.
While usual issues like Social Security, health care and the ability to retire with dignity are on the minds of retirees, this election is about so much more.
"I support Joe Biden because he, through a lifetime of work, has shown his concern for working class people," said Luther Elmore, a member of Texas Retiree Chapter 12. "He has supported the common person, not just the millionaires and billionaires."
Former Vice President Biden has proven that he cares about all Americans – not just a few wealthy people at the top – something vitally important to Elmore and others as they make their decisions on whom to vote for, with some having voted already.
"We are now the shoulders that the younger people are standing on," said Jeff Birttnen, a member of Minnesota Retiree Chapter 5, who has already voted and sports his 'I Voted' sticker with pride.
The COVID-19 pandemic and the lack of leadership we have seen this year are key reasons retirees are heading to the polls.
"We need new leadership with actual plans to end COVID-19 and increase the benefits of the Affordable Care Act," said Cordelia Lewis, an Indiana/Kentucky Retiree Chapter 962 member.
The need for leadership – proven leadership – is clear.
A vote for Joe Biden is a vote for a trustworthy and experienced leader, according to Lewis and her peers, who make a resounding call to action for fellow retirees to join them in voting for him.
"This is the time for the retirees to step up," said Pat Riggs-Henson, a member of Oregon Retiree Chapter 75, who made a direct call to her fellow retirees.
Now is the time to vote for the kind of future we want to see for our children and grandchildren, a future where all Americans can prosper and live a life of dignity and respect regardless of income, race or background.
Make your plan to vote today at afscme.org/vote.